Master's Degree Programme
Master of Science – Molecular Biosciences
Molecular Biosciences is an international Master/PhD Programme introduced by the Faculty of Biosciences. It has been running successfully since October 2007.
All teaching is held in English and we welcome students from all over the world. Molecular Biosciences offers you the chance to continue your academic career in your favourite field of Biosciences. 
You can choose between 7 different Majors: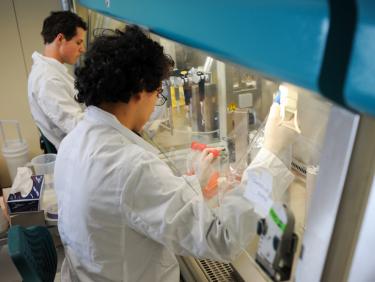 Each major is designed to provide a comprehensive but focussed training in the most exciting fields of modern biological research and represents a special research area in Heidelberg. Our goal is to give you an intensive training and tutoring with a strong emphasis on original research to provide you with an optimal start to our Faculty's Graduate programmes, to continue your academic career with your PhD.
Heidelberg is famous for its concentration of world-class biological research laboratories, all of which are open to our students. The members of the Faculty of Biosciences, most of which work and teach in the Bioquant, BZH, Center for Infectious Diseases, COS, DKFZ, IPMB, IZN or ZMBH, would like to welcome and guide you as prospective members of our research community.
Course content and organisation
The program lasts for 4 semesters (2 years), starting at the beginning of October each year. The first year contains formal course work and the second year is devoted to laboratory research (lab rotations and Masters project work).
Semester 1 - Frontiers of Biosciences
This semester consists of two course modules which provide a solid background in advanced molecular biosciences, particularly concentrating on aspects which are represented by Heidelberg researchers. Each module lasts 8-9 weeks, of which 5-6 weeks are spent in course work and 3 weeks are allowed for exam preparation. The formal course work for each module consists of:
Lectures which provide theoretical information, with accompanying tutorials. The lectures are attended by all students of the MSc course. At the end of the module students are examined on the content of the lecture course.
Practicals allow students to obtain diverse laboratory skills, and to observe in practice selected topics. The practicals are organised by the Majors. Each practical is accompanied by a seminar in which relevant articles from the primary literature are critically discussed. The seminars also allow students to practice language and presentation skills. Practical and seminar groups are small (usually no more than 12 students) giving an excellent opportunity for interactions between the students and the teaching staff. Student participation in the practicals and seminars contributes to the final grade.
Semester 2 - Focus Bioscience
This semester is organised into two modules with a similar structure to those in the first semester, but all of the teaching is specific to the Major which has been chosen by the student. Please see the individual Major links for details.
Semester 3 - Biolab und Working in Bioscience
In this semester you undertake two lab rotations, working for 6 - 8 weeks on a small project in the laboratory of choice, attending literature seminars in that laboratory and writing a lab report. One of these lab rotations has to be within the Major; for the other students may choose to work in a lab from another Major. Alternatively, students may choose to go abroad for one of the lab rotations in the context of special exchange programmes (see below).
Semester 4 - Master Thesis
The masters Thesis work lasts 6 months. You undertake a laboratory research project relevant to the Major, write a thesis, and defend it in an oral presentation.
Life Science for Health has an ambitious aim: setting the standards for european biomedical education - providing best training across the borders. The exchange programme between Karolinska Institute in Stockholm, Sweden; Heidelberg University Faculty of Biosciences and Leiden University Medical Centre, The Netherlands, all 3 members of LERU (League of European Research Universities, the european counterpart to IVY League) allows students to study in Joint Master programmes of the three institutions.