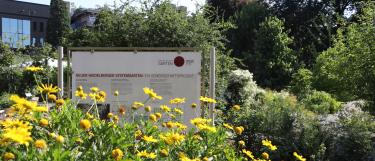 "Colors of Biotechnology" 5.-7.10.2023
The Molecular Biosciences Symposium, organized by Master students of Molecular Bioscience at Heidelberg University, cordially welcomes you to this year's exciting event: "Colors of Biotechnology"!
Biotechnology, an ever-advancing field with high relevance across various disciplines within Molecular Bioscience, takes center stage during our three-day symposium. Join us for captivating keynote lectures and interactive workshops, highlighting cutting-edge research in the vast realm of biotechnology. From modern industrial applications to agricultural, environmental, pharmaceutical, and life science approaches, we'll explore the spectrum of possibilities and delve into the ethical aspects of these advancements.
https://molbioevents.wixsite.com/molbio-symposium

Bertalanffy Lecture Series
The Bertalanffy Lecture Series was created with the aim of providing a better understanding of integrative approaches in systems-oriented biology for both high school students and scientists on campus. The twice-yearly lecture is regularly attended by more than 200 students from Heidelberg and the region and is very popular on campus. The Bertalanffy internship, which gives interested high school students an insight into research and laboratory work, complements the lecture series.

With this project, we would like to reveal the important contribution that basic research at the university makes to society and what current research actually looks like.  To this end, we will report on the work of scientists, take a closer look at projects and let the audience share in the progress. In addition, we will provide many insights into the everyday life of a scientist in order to realistically portray the lengthy process of research.