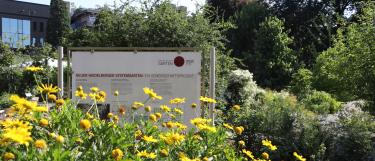 Building functionality - the relevance of form across biological scales
How structure, shape & architecture guide functionality is a fundamental open question in biology that expands through all biological scales: From the structure of the DNA to the morphology of organs. In this symposium, we aim to highlight common and differential features emerging from the molecular, cellular, tissue and organ architecture in the animal and plant kingdoms. We will also discuss how to engineer biological models to generate novel functions.     
October 13-14, 2022
"Sustainability in Science" 29.9-1.10.2022
We would like to invite you to join our symposium and learn about how research can be, and currently is, designed sustainably, what research is being conducted to address the climate crisis, how to communicate science with non-scientists and how to sustainably take care of your own wellbeing. This student-focused symposium is also a great opportunity to engage with your peers and meet like-minded students
https://molbioevents.wixsite.com/molbio-symposium

Bertalanffy Lecture Series
The Bertalanffy Lecture Series was created with the aim of providing a better understanding of integrative approaches in systems-oriented biology for both high school students and scientists on campus. The twice-yearly lecture is regularly attended by more than 200 students from Heidelberg and the region and is very popular on campus. The Bertalanffy internship, which gives interested high school students an insight into research and laboratory work, complements the lecture series.

With this project, we would like to reveal the important contribution that basic research at the university makes to society and what current research actually looks like.  To this end, we will report on the work of scientists, take a closer look at projects and let the audience share in the progress. In addition, we will provide many insights into the everyday life of a scientist in order to realistically portray the lengthy process of research.