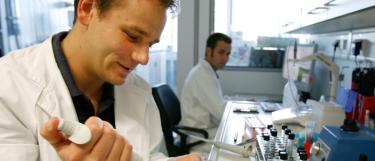 Welcome to the homepage of the Ph.D. Office of the Faculty of Biosciences. The faculty, several affiliated institutes, and their research facilities have developed a multifaceted Ph.D. Program, which allows for modern and highly sophisticated training and education of our Ph.D. students. The Program is meant to improve your proficiencies and knowledge in your particular field of study and broaden your scientific horizon beyond the research project you are working on. Participation in a Ph.D. Program is required for all Ph.D. students of the Faculty of Biosciences.
The Faculty grants the title Dr. rer. nat. (Doctor of Natural Sciences, equivalent to Ph.D.) or Dr.-Ing. (Doctor of Engineering, equivalent to Ph.D.) to our doctoral candidates.
We invite you to follow the links in the menu on the right to get more information and start today.
Prof. Dr. M. Lanzer
Vice Dean
Faculty of Biosciences